We love press and we've been featured in PEOPLE magazine, Good Morning America, the New York Times, and even ranked as one of the top three of best in support for weight loss in the US News and World Report. We have lots of potential success stories ranging from new moms losing the pregnancy weight to women losing 50 pounds and to those who have lost north of 80 pounds. Jackie Wicks is regularly featured on national radio shows and publications as a healthy lifestyle expert. Please contact us at 561.623.5336 anytime or at press@PEERtrainer.com.
Good Day New York, Jackie Wicks discusses the Cheat System Diet, January 2016

Good Day Chicago, Jackie Wicks discusses the Cheat System Diet

Thrillist: FREE WEIGHT-LOSS STRATEGIES THAT ARE INFINITELY BETTER THAN COUNTING STEPS
Free Weight Loss strategies that are infinitely better than counting steps


November 13, 2016, Thrillist


CBS News, Los Angeles. Jackie discusses the Cheat System Diet!




Good Housekeeping Magazine: "We lost over 300 pounds!"



Good Housekeeping Magazine: "We lost over 300 pounds!"
"…… she found PeerTrainer, a free online group where members track their diet and fitness routines and share stories. Since she's "more comfortable addressing [her] weight virtually than live," it was just the approach for her, Ana says."
August 2012 Issue, Good Housekeeping Magazine
OPRAH Magazine: Dr. Oz's 28-Day Plan to Renew Your Body, Mind and Soul
"……PEERtrainer… Join one of thousands of goal-oriented teams (to boost your drive and find support when you need it…"
January 2012 Issue, O Magazine

US News And World Report BEST DIETS: How to Stay on a Diet to Lose or Maintain Weight
"……dieters can interact and track each others' weight-loss progress, pose questions, and swap diet and exercise tips…."
June 6, 2011

The New York Times Fashion & Style: New Year's Resolutions Go Online For Added Support or Pressure
"….digital descendants of offline programs such as Weight Watchers…"
January 23, 2011

"The Social Networking Diet"
"PEERtrainer, founded in 2005, focuses heavily on the online community aspect. Users can join small groups with a limit of four members based on their lifestyle. For instance, there are groups called "Moms With Small Children," "Emotional Eating" and "Dancers Losing Weight."…more>
October 10, 2007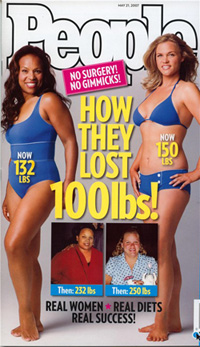 PEOPLE magazine
PEERtrainer community leader Kate Smith appears on the cover of People Magazine!
May 11th, 2007
PEERtrainer named the winner of the 2007 Web 2.0 Awards in the "Health" category
Interview: "We are taking an industry approach to developing the site, the product and the business. We have been successful on weight loss outcomes, and the focus is now on overall health outcomes as well." Read our interview with Habib Wicks, Co-founder, PEERtrainer
May 9th, 2007

NBC's Tech Now
"How PEERtrainer can help you lose 10, 30 even 90 pounds"
Click here to watch Kissmekate02 featured on NBC!

"The Best Web 2.0 Sites"
Every single one answers a need, offers help, presents some practical value, or at least provides a good dose of fun….Whatever the motivation behind these great sites, we've never been happier to be online…more>
October, 2006

CNET
"How Web 2.0 can help you get fit"
September 7, 2006

PC Magazine
…"And 31-year-old schoolteacher Kathryn Smith, who lost nearly 30 pounds in a couple of weeks, thanks to the support she received on PeerTrainer"…
June 21, 2006

Business Week
Socializing for Dollars
April 10, 2006

Fitness Magazine
"The buddy system has been shown to help 66% of people maintain their weight loss. If you're looking for someone as zealous about ab sculpting or marathon training as you are, check out PEERtrainer.com, a free service that helps you find active friends with similar goals and athletic interests…"
March, 2006

ABC News
Can social networking help dieters?
Online Networks Can Help You Tackle Weight loss
January 4, 2006

About.com
PEERtrainer receives 4.5 stars (out of 5) on About.com!
January 6, 2006

New York Times
A Virtual Environment for Shedding Pounds
November 17, 2005

USA TODAY
Hot Sites
October 7, 2005

Fast Company
Water Cooler – Roundup of what you'll be talking about this month
December, 2005

Online Media Daily
New diet site leverages social networking
October 4, 2005
For press inquiries, please email press@PEERtrainer.com.